What is KCNQ2
New to this journey and want to learn more? Get your questions answered here.
KCNQ2 DIGITAL OBSERVATIONAL STUDY
You hold the key to moving research forward
KCNQ2 CURE
Natural History Study
A Natural History Study is often the first step to finding a treatment or cure. 
2022 Summit Videos
Summit presentations now available
Unity. Hope.
Strength. Love.
Our urgent goal is to Cure KCNQ2. We can't do it without you!
KCNQ2 Cure's Fundraising Handbook
Be an active supporter in the quest to cure KCNQ2 Developmental and Epileptic Encephalopathy. Download our toolkit to launch your personal fundraising event.
Subscribe to the KCNQ2 Connections Newsletter
For news and updates on the latest KCNQ2 research, clinical trials, conferences, and family meet-ups.
It takes so much more energy When you love and live with someone who has a rare condition like KCNQ2, the day-to-day grind can feel overwhelming. How do you keep creating and capturing beautiful memories? Here, KCNQ2 mum Claire Audibert shares her thoughts on focusing on unique and small moments of happiness, and what lies…
My daughter Ella was only a month old when the neurologist at the third hospital she was sent to that month said, "Just go home and love her. We don't know what to do until genetic testing comes back." At this time she was having around 7 seizures every hour and no medication we had…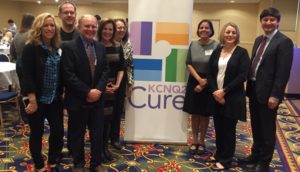 Collaboration is key to efficiently advancing our mission to improve the lives of patients with KCNQ2 developmental and epileptic encephalopathy.
While KCNQ2 itself is a rare disease, it has many commonalities with other rare and not-so-rare disorders and manifests with symptoms – such as autism, sleep and mood disorders, and GI issues – that are seen quite commonly.  We welcome discussions and partnerships with doctors, researchers, academic institutions, biopharmaceutical companies, and patient organizations, on a global basis, who share our passion for advancing treatments for patients with KCNQ2.  If you are interested in opening the dialogue with KCNQ2 Cure Alliance, please contact Caroline Loewy.