KCNQ2 Cure's Fundraising Handbook
Be an active supporter in the quest to cure KCNQ2 Developmental and Epileptic Encephalopathy. Download our toolkit to launch your personal fundraising event.
Subscribe to the KCNQ2 Connections Newsletter
For news and updates on the latest KCNQ2 research, clinical trials, conferences, and family meet-ups.
In the middle of August, I had the opportunity to spend an afternoon in Chicago meeting with a group of people from the world of rare diseases. Biomarin invited a group of us to meet to discuss genetic testing in our world of rare epilepsies. Biomarin has been in our world for a while now.…
On March 21-22, I had the opportunity to represent the KCNQ2 Cure Alliance at the 2019 Research Roundtable for Epilepsy organized by the Epilepsy Foundation. Now in its fourth year, the annual meeting brings together patient advocacy organizations with leading epilepsy experts from research organizations and pharmaceutical companies with regulators from the Food and Drug…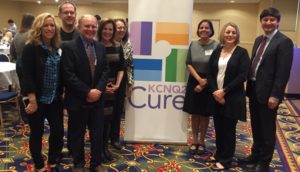 Collaboration is key to efficiently advancing our mission to improve the lives of patients with KCNQ2 developmental and epileptic encephalopathy.
While KCNQ2 itself is a rare disease, it has many commonalities with other rare and not-so-rare disorders, and manifests with symptoms – such as autism, sleep and mood disorders, and GI issues – that are seen quite commonly.  We welcome discussions and partnerships with doctors, researchers, academic institutions, biopharmaceutical companies, and patient organizations, on a global basis, who share our passion of advancing treatments for patients with KCNQ2.  If you are interested in opening the dialogue with KCNQ2 Cure Alliance, please contact Caroline Loewy.
KCNQ2 Natural History Study
Click here to find out how to enroll in the KCNQ2 Natural History Study at Boston Children's Hospital